Monday Morning MD: Jamaal Charles tears ACL again
Kansas City lost more than the game on Sunday. The likely have lost their number one offensive weapon for the season. By video, it was immediately clear that Jamaal Charles tore his right anterior cruciate ligament (ACL).
There remains the slimmest of hopes as the team awaits a MRI; however, in my almost two decades as a NFL team physician, we had every ACL tear diagnosed based on physical exam prior to leaving the field. The lachman and drawer manual tests are very accurate, especially when done immediately before guarding or swelling. Unfortunately, I don't doubt the quality Chiefs medical staff, as they know the bad news.
Certainly a hands on exam or reviewing a MRI is much more accurate than any video analysis; however, this injury was clear to me. For 17 years, I would examine players on the field, sideline, locker room and then re-exam them the day after with MRI results in hand. Next came a Monday visit to the team video room to analyze what happened. This is the inspiration for the Monday Morning MD title. I was just trying to be the best team physician I could be. I had no idea how this knowledge might serve me in the future.
In 2011, Charles tore his left (other) knee ACL and made a terrific recovery returning with a career best 1500+ rushing yards. However, his feat was overshadowed by Adrian Peterson's 2000+ yards in his 2012 ACL return.
After successful ACL surgery, the other knee is more likely to tear than the original knee is likely to re-tear. There are genetic and other structural factors (in addition to occupational hazard) that lead to more risk for certain players.
If there is a silver lining, Charles has several factors that could work in his favor. First, this was the other knee as the left knee injured in 2011 was sparred. Second, he knows how to successfully rehab as he has been through this before. Athletes who tear their ACL have a 95% chance to return to the same level. Finally, an October injury gives 11 months before the next regular season game.
If the team knows before the MRI, why get the study? Confirmation of the physical exam is always helpful, but the main reason is to evaluate associated damage of meniscus, articular cartilage, other ligaments or bone bruise. Perhaps there is a small chance of an ACL avulsion where a repair could be entertained as opposed to the much more common reconstruction.
Assuming the MRI news is good in terms of minimal articular cartilage damage and a successful surgery, I expect a full recovery and a quality 2016 season for Charles.
MMMD 1: Super Star injury watch
Dez Bryant's return from Jones fracture was originally pegged at 6-8 weeks. Admittedly I felt use of bone graft might mean a worse fracture, but a Week 7 return isn't unprecedented as other NFL players have returned earlier, but things have to go his way. Dez has been seen without his boot but was in one on the sidelines Sunday. He still has to run, cut and practice before playing. Jerry Jones indicated Bryant had a stem cell procedure last week, but that only confirms he is weeks away as any injection to accelerate healing (stem cells or PRP) takes at least two weeks to start to work. Just ask Victor Cruz, Kiko Alonso or Breshad Perriman who all had stem cell and/or PRP, yet remain sidelined.
Andrew Luck missing Thursday's game was not a setback. The best news on his subluxed (shifting) shoulder is there was no structural damage on MRI and surgery is ruled out. With 10 days until the much-anticipated Patriots showdown, I would be surprised if Luck is not ready.
Ben Roethlisberger has not practiced but did throw on the side and has been on the exercise bike. Next step is straight ahead running, followed by cutting and then drop backs/footwork. Once I saw he was without crutches on the sidelines last week, I felt his bone bruise was better than expected and the grade 2 MCL should have him returning during October and I stand by that timeline.
Steve Smith Sr. sat this week as expected with four spine fractures likely to involve the transverse processes. Last season, quarterbacks Tony Romo and Cam Newton returned to play after a one-week absence. Certainly it will be harder for a wide receiver to return so quickly but I feel Smith, as tough as he is, has a shot to play next week. I would be shocked if he did not play this month.
Tony Romo remained in a sling, but I remain confident that he will be ready to play as soon as he is eligible from his being placed on short term injured reserve.
MMMD 2: MRSA has Daniel Fells hospitalized and on IR.
The Giants tight end was reported to have undergone at least five procedures on his ankle. Methicillin resistant staphylococcal aureus (MRSA) require stronger antibiotics and often require surgery to lance superficial boils. When it goes deeper, that leads to greater issues, as it seems to have on Fells.
Although MRSA is very worrisome, claims of potential need for amputation exaggerate the real danger. Reports indicated a positive turn of events.
MRSA first hit society and the NFL over a decade ago. The NFL established protocols with the Centers for Disease Control (CDC) as early as 2006. Those protocols seem to be working as while staph is naturally all over are bodies, there have been no proven examples of player-to-player MRSA transmission since then. It is important to communicate these facts to the players and the Giants medical staff reportedly held just such a meeting.
MMMD 3: DeMarcus Ware carted off in Oakland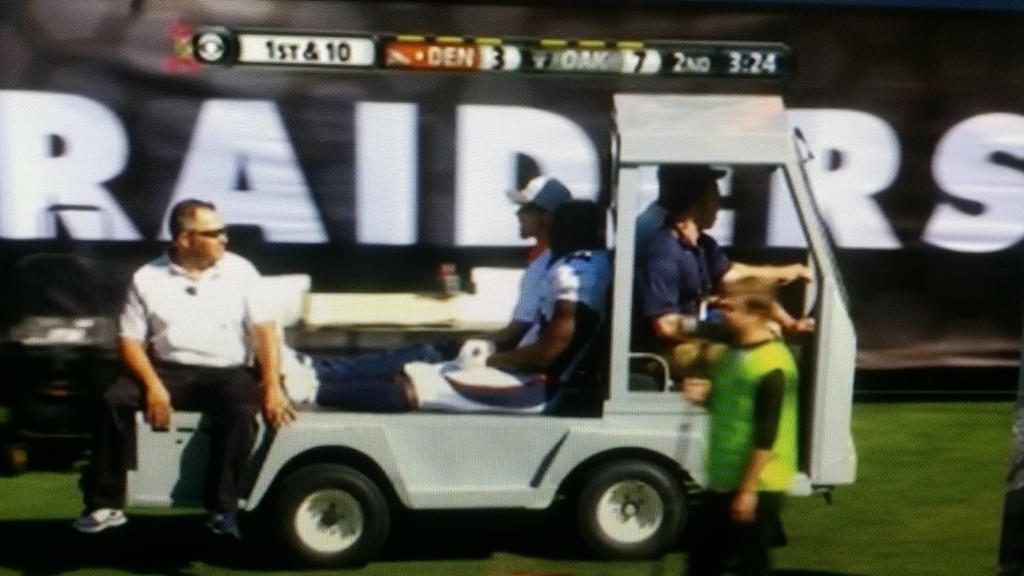 Whenever a player is transported off the field, many fear the worst. I expect that is not the case with Ware's back injury. First, there was no one play where there was trauma. Second, a player with a serious back injury would not be sitting up as he was carted off. Finally, the Oakland Coliseum locker rooms are up several flights of stairs and x-ray is up several flights further. As a team doctor, I have been in that position where a cart was needed due to the Oakland stadium antiquated logistics.
With all of these factors, I hope the cart off was of convenience and not necessity. I expect a quick return for Ware without serious spine issues. I hope the NFL can rectify the Oakland stadium issues including playing some games on dirt causing safety issues.
MMMD 4: Injury rundown
Justin Forsett, Ravens RB – broke a big gain to set up first and goal before the drive stalled and Baltimore settled for a game tying field goal. By video, Forsett suffered a high ankle sprain. He did not return as his team lost to the Browns in overtime. This morning's exam will set the tone for potential return based on overnight swelling. By video, I anticipate a mild high ankle sprain without an extended absence and a chance to play next week much like Fred Jackson was able to.
Odell Beckham, Jr. and Ruben Randle, Giants WR – both with hamstring injuries. Beckham returned on final drive, but Randle did not. Both of the severities are to be determined.
Marques Colston, Saints WR – left game and seen in a sling. By video, he may have a AC joint sprain/separation with severity to be determined.
Donta Hightower, Patriots LB – has a rib injury and did not return. By video, there is no fracture but rib cartilage/muscle injury is just as painful.
MMMD 5: Eye in the sky controversy.
The ATC spotter is asked to perform an impossible task. His or her job is harder than an official never missing a call. Judging concussions by video if far from an exact science as many hard hits don't lead to concussion but some minor blows do. I applauded the new medical timeout rule but also indicated that it would not be the final answer.
Many felt Arian Foster should have been evaluated fully before returning to the Thursday night game but a medical timeout was not called. Fortunately when he finally was checked, he was cleared to return and finished the game.
Just like officials work in a crew with divided responsibilities, at least three people are needed where currently there is only one ATC and a video technician. One ATC should be responsible for live action and monitoring the actions of medical personnel, while the second ATC is charged with evaluating further replay angles. You can't ask the same official to be watching for roughing the quarterback and hit to the head of a defenseless receiver at the same time. It is equally impossible for one person to follow the action, monitor actions of medical personnel and evaluate replay angles.
MMMD 6: Call to remove final preseason game
At the owners meeting this week, there was more discussion about eliminating a preseason game. In this health and safety era, my suggestion is simple. Remove the final preseason game but add a second bye week. The season remains the same length and player health and safety are improved.
Thursday short rest games could be eliminated as midweek games could be paired with a bye, thus giving 11 days before and 10 days after. The Patriots and Titans just had a bye last week. I bet both teams would love a bye in the second half of the season.
The NFL had two bye weeks in 1993 and it was not continued, but that was over 20 years ago and this is a different time. My informal poll shows players in favor of a second bye week.
The season would stay the same length, no extra games would be played and there would be more meaningful football to watch (and more revenue) with an additional slate of Sunday games, plus an extra Sunday, Monday and Thursday night game. International games could be more easily scheduled. Heck, Wednesdays would become feasible for games too. Managing a second bye week would also increase the fantasy challenge.
MMMD 7: ProFootballDoc scorecard
Last week we ended with a 46-3 record. Unfortunately, Lance Dunbar did tear his ACL and MCL as video showed. Fortunately, Fred Jackson returned to play in first week after a mild high ankle sprain. Tevin Coleman was active in his second week from rib fracture as expected. Matt Hasselbeck was ready to go and showed no effects of illness. Arian Foster returned to play after his concussion evaluation as expected.
The video is clear on Jamaal Charles presumed ACL tear. With the Chiefs expectations, I will count it correct for now, but will change it if the news is surprising. This makes the 2015 record 51-3 to date.
Georgia RB Nick Chubb doesn't count here as I am limiting the scoring to NFL injuries. As expected, his injury is a multi-ligament tear and much worse that ex-teammate Todd Gurley's ACL. I am just hoping Chubb's injury will be more like Willis McGahee's multi-ligament tear who made it to an NFL career versus Marcus Lattimore who retired after two seasons of rehab with the 49ers without playing a down. Gurley has started the last two games and notched two 100+yard performances. As a sophomore, Chubb has one and a half years to get ready for the 2017 NFL draft. He will need all of that time.
Follow David on Twitter: @profootballdoc
Dr. David Chao is a former NFL head team physician with 17 years of sideline, locker and training room experience. He currently has a successful orthopedic/sports medicine practice in San Diego.
Two decades of NFL team physician experience including two Super Bowls and two Pro Bowls. Providing unique perspective to injuries and the NFL sideline/locker room. Successful orthopedic surgery and sports medicine practice in Southern California.