Should we continue to buy De Smith's rhetoric?
by
July 06, 02012
Print This
NFLPA Executive Director De Smith seems destined for a career in politics once his time in pro football is up. He has proven to be masterful at altering public perception with the use of bold statements and self-serving rhetoric, facts be damned.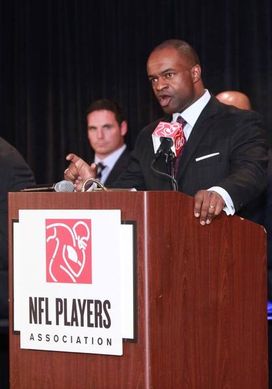 ICONNFLPA Executive Director De Smith.
On March 7th of this year, Smith announced through the NFLPA website that they would be conducting their own independent investigation of the BountyGate scandal, and that they would "work with the NFL and NFL players to put into place additional safeguards to prevent this in the future." From a press conference to making the rounds on talk radio and television, De Smith let it be known that he was going to handle business.
Five months later, and Smith and the NFLPA have yet to get around to conducting their own investigation. I suppose they've been busy dealing with more pressing matters like the implementation of HGH testing, for example.
Last August, the NFLPA and NFL issued a joint statement, announcing that they had included in the new CBA testing of NFL players for HGH.
The 2011 NFL season came and went without a single player being tested for HGH. In the fall of 2011, two sets of anti-doping experts from the scientific community endorsed the current blood testing protocols used by the World Anti-Doping Agency and the Olympics: "The test itself is scientifically accepted and has undergone extensive evaluation…The current HGH test is safe, scientifically reliable, and appropriate for use in professional sports leagues. There is no scientific question about its validity."
Prior to the Super Bowl in February, Smith finally commented publicly on the delay
"No one will bully us into a test. No one will force the players to accept something that's unfair. How could we?"
Rather than agreeing to the Olympic testing procedures, Smith eventually convinced the NFL to consent to a "population study" to "help establish a consensus as to what constitutes a positive test result".
Smith has publicly pushed forward his belief that NFL players would naturally have higher levels of HGH in their blood stream than the average Joe. That announcement came in March of 2012. Since then, the scientist hired jointly by the NFLPA and the NFL to conduct the study abruptly resigned, and according to reports, refused to continue due to difficulties he encountered with the NFLPA in terms of cooperation and because of the overall pointlessness of the study.
Based on his actions, it's pretty clear to me that Smith is doing everything he can to prevent NFL players from being exposed and punished for using HGH. We are now three weeks away from the start of training camp, and it's unlikely that we'll see NFL players tested for HGH during the 2012 season either.
De Smith is the same man that went on WFAN in New York on March 17, 2011 during the lockout, and made the following statement to host Mike Francesa:
"Teams pay nothing to former player pensions right now, and it's been that way since 19… it's been that way since history… I was going to date myself, but it's been that way since the AFL and NFL merged. So I think it's disgraceful that teams don't pay anything to the former players who made this game great. How much money do the NFL teams provide to the former player pensions? The answer is zero."
As a fan of the game, that right there will make your blood boil, right? How could these billionaires get away with this atrocity? There's one small problem though: it's a complete lie. Absolutely not true in any way, shape, or form.
The NFL has been funding the pensions for vested, retired players since 1959. I certainly feel as though they can and should do more. But just to throw some numbers at you, the NFL contributed a total of $354 million in 2009 and 2010 to the retired player's pensions. It's mind-boggling that Smith could make a statement so blatantly false, while knowing the truth. (The NFLPA's own website had a Retired Players FAQ section that completely contradicted Smith's bizarre tale as well.)
Former Buffalo Safety Jeff Nixon of NFL Alumni pointed out, "De Smith has been telling this fairy tale for so long, members of the media are starting to believe it."
Has Smith ever re-canted that statement, apologized publicly for the lie, or made any effort to re-phrase his statement? No.
The truth of the matter, in all honesty, is that De Smith has a problem shooting straight. Perhaps that makes sense, considering that his offices are located in Washington, DC.
Warren McCarty is the founder of My Passion is Football.
Follow Warren on Twitter: @mpifradio