Lighter in the pockets
by Joel Corry
July 24, 02014
Print This
The NFL announced on Wednesday that Philadelphia Eagles offensive tackle Lane Johnson has been suspended for the first four games of the regular season for violating its performance enhancing drugs policy.
Johnson received a fully guaranteed four-year, $19,853,104 contract, which included a $12,818,620 signing bonus, as the fourth overall pick of the 2013 NFL draft. His 2014 salary consists of a $495,000 base salary and an $812,414 fifth day of training camp roster bonus.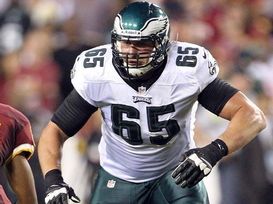 Johnson will miss the first four games of the 2014 regular season.
Johnson's suspension will cost him $934,224. He will lose $116,470 (4/17ths) of his base salary. The Eagles will recoup the same proportion (4/17ths) of the prorated amount of his signing bonus ($3,204,655) as he's losing in base salary. This amounts to $754,036. Under the NFL's collective bargaining agreement, the standard of recoupment is different for roster, reporting and option bonuses than with signing bonuses, but Johnson will also forfeit $63,718 of his roster bonus. Johnson will be playing the 2014 season for $373,190 instead of the $1,307,414 he was originally scheduled to make.
Johnson's contract contains language that voids the remaining salary guarantees with a suspension. Most NFL contracts have these types of clauses. Johnson's suspension wipes out the $6,629,484 of salary guarantees he had in his 2014 through 2016 contract years.
The voiding of Johnson's guarantees gives the Eagles leverage to ask Johnson for a pay cut in the future and lowers the salary cap charges if they release him. For instance, Johnson's entire $6,316,897 2016 cap number would have counted against the Eagles' cap upon release in 2016 without the suspension. Since Johnson's $3,112,242 2016 salary ($675,000 base salary and $2,437,242 fifth day of training camp roster bonus) is no longer guaranteed, the only cap charge for the Eagles will be $3,204,665 of signing bonus proration if he is cut in 2016.
The ramifications for Dion Jordan, the third overall pick of the 2013 NFL draft by the Miami Dolphins, with his four-game performance enhancing drugs suspension are like Johnson's, but a little steeper since he got $719,194 more for being selected one pick higher.
Follow me on Twitter: @corryjoel
Joel Corry is a former sports agent who helped found Premier Sports & Entertainment, a sports management firm that represents professional athletes and coaches. Prior to his tenure at Premier, Joel worked for Management Plus Enterprises, which represented Shaquille O'Neal, Hakeem Olajuwon and Ronnie Lott. You can email Joel at jccorry@gmail.com.